Chair: Dan King
Email: adjutant521@hotmail.com

---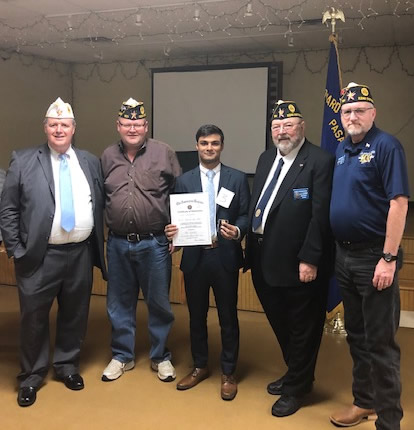 After winning the Post 164 Katy oratorical competition, Rehan Rupawalla, a senior at Obra D. Tompkins High School, went on to win the District 22 competition and the Division 2 competition, both held at Post 521 Pasadena. On February 17 2020 he will compete in the Department competition in Frisco Texas.
Seen here with 2nd Division Commander Bryan Douglas Coleman, 22nd District Commander Joseph Thomas, 22nd District Vice Commander Harry Woodstrom (chair of the Post 164 Oratorical Contest) and Post 164 Commander Jim McGuire.
---
Four contestants took part in the competition for the 2nd Division title on January 20 at 1:00 PM at Post 521 in Pasadena.
2nd District winner: Ivan Torres of Lumberton HS from William Holt Curtis Post 72
6th District winner: Peter Brown of Midlothian HS from Chris Kyle Post 388
8th District winner: Revjeer Kindra of Cy Falls HS from Jersey Village Post 324
22nd District winner: Sid Puranik of Tompkins HS from Jonathan D. Rozier Post 164
Congratulations to all for a well-fought competition. Revjeer Kindra will be going forward to compete at the Department level representing the 2nd Division.